Old Lyme is situated halfway between New York and Boston, where the Connecticut River flows into Long Island Sound. It is one of the only major rivers left in the world that has not been built up at its mouth with an industrial port. As a result, much of the area serves as a wildlife sanctuary, with an abundance of natural beauty that is continually preserved through local land trusts.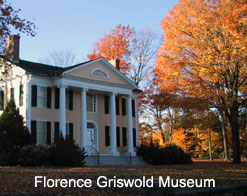 THE HISTORY - Lyme was prominent in the 1700's before the American Revolution and through the 1800's with agriculture and foreign trade. In the early 1900's, the area became host to the Lyme Art Colony, America's largest and most famous Impressionist-oriented art colony. Artists were attracted by the diversity of the landscape, from the salt marshes, to the rocky outcroppings, mixed with stately mansions that reflected the town's prosperous and prominent past. The Florence Griswold Museum, now a National Historic Landmark still retains the atmosphere around the house where the colony was centered, and offers one of the world's foremost collections of American Impressionism.
Today, Old Lyme is very much alive as an art center, with traditions of the Lyme Art Colony carried forward by the Lyme Art Association in their historic gallery and the Lyme Academy College of Fine Arts, distinguished among art schools in America.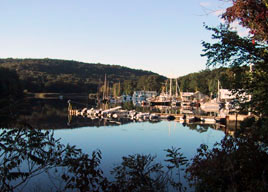 RECREATIONAL ACTIVITIES - Between beaches, lakes, rivers and nature preserves, there are numerous places for outdoor activities such as boating, fishing, canoeing, kayaking, swimming and hiking. There are also three area golf courses, two country clubs, two beach clubs and three world class spas close by: Waters Edge Resort & Spa, the Saybrook Point Inn, and the Norwich Inn.
To see area listings for the performing arts, theatre, films, symphonies, dance and operas, visit www.gardearts.org.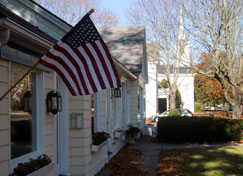 AREA SHOPPING - While the Village of Old Lyme is quiet and quaint, with a number of specialty shops and stores to handle the essentials, there are a number of larger shopping areas nearby. With the convenience of I-95, drive west and within 20 minutes you will pass a Tanger Outlet Mall in Westbrook and a Premium Outlet Mall in Clinton with stores like Barneys, Saks off 5th Ave, Coach, etc. Drive east 20 minutes, and you have the Crystal Mall in Waterford, with all the surrounding major department stores from Abercrombie & Fitch, Ann Taylor and Talbots to Target and Best Buy.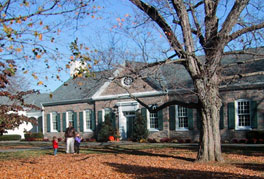 SCHOOLS - Lyme and Old Lyme have retained a small town atmosphere with personal attention and community involvement in the local school system. The Lyme/Old Lyme High School graduating class has about 100 students, much like a private school, and approx. $11,000 is spent per student, per year, which is high. As a result, Lyme/Old Lyme SAT scores are higher than the national and Connecticut average. The High School offers a planetarium, courses in Robotics, Lacrosse, Crew, Soccer and 87% go on to higher education.